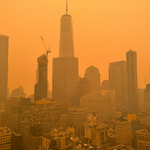 How Air Pollution Impacts Your Skin
New York City hit a new record on June 7 — and not the good kind. 
Due to the wildfires raging in Canada, New York City reported the worst air quality in the world on Wednesday. Public health officials have advised those who are at risk for health complications in impacted areas to stay inside if possible, but for those of us who cannot avoid the outdoors, there's another factor at hand: your skin.
Did you know that poor air quality exposure can have adverse effects on your skin, from wreaking havoc when it comes to barrier function, to  dehydration, sensitivity, uneven skin tone, and overall dullness.
Here are some tips to protect your skin from damage against pollution and support skin barrier function:
Step 1: Neutralize Free Radical Damage With an Antioxidant Serum
An antioxidant-rich serum can help combat rising oxidative stress in the skin and prevent free radical damage
Step 2: Step Up Your Exfoliation Practice
A gentle exfoliator can help after you've spent a lot of time outside. Be sure to follow with a nourishing moisturizer.
Step 3: Use a Deeply Moisturizing Night Cream
A rich moisturizer at night will help protect the skin barrier.
Step 4: Cleanse Regularly After Exposure
Opt for a gentle, non-stripping cleanser.
Step 5: Don't Forget the SPF
Even though it's hazy, sun protection is still important to protect your skin.
Read more from our blog:
Valley of Roses: Discover The Skincare Haven 
Thinking of Investing in a Humidifier: Board Certified Dermatologist Dendy Engelman Makes the Case