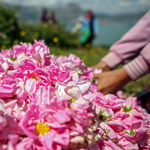 The Valley of Roses: The History of the Damascena Rose
The legend of the Damascena Rose is a unique and fascinating one.
Harvested each May in the valleys of Anatolia in Turkey, the exquisite and fragrant rose has a 5,000 year history with origins hailing back to the Ottoman empire. As the capital of Istanbul grew and there was little space left for the rose fields, the Ottomans planted the majestic, fragrant pink roses in the city of Isparta, where they are still grown today.
Also known as the Damask Rose, these majestic pink blooms, whose fragrance that is both delicate and beguiling, have long been celebrated through the generations for their beauty as well as an array of traditional healing salves, from headache relief to helping with anxiety. Their skin benefits are vast and use of the Damascena Rose has been passed down from generation to generation, for everything from reducing redness, to imparting radiance to the skin.
What makes the Damascena Rose so unique is the longstanding heritage of the 10,000-plus families of Isparta who grow and tend to their fields all year long. The family farmers gather each May for the annual month-long rose harvest period. Harvesting takes place by hand and begins in the early hours of the morning (as early as 4:30 am). The flowers are handpicked as the petals are misted by the morning dew, only just before the flower is about to fully bloom,  thus ensuring  each one retains the highest concentration of precious rose oil at its highest quality.
The Damascena Rose  can be found in fine teas, rosewater to be used for cooking and baking, rose oils, used for fragrance and skincare. 
Testament Beauty founder Sophia Chabbott, sought inspiration for the Damascena Rose De-Stress Moisturizer from her childhood spent with her great grandmother, who baked the most delectable desserts such as  Mediterranean using rosewater. She also taught her great-granddaughter her practice of applying rosewater to her face, as you might apply an essence today. It's a tradition she's held dear for decades and is delighted to bring into the Testament Beauty collection with the Damascena Rose De-Stress Moisturizer. 
There are two forms of Damascena Rose found within Testament Beauty's Damascena Rose De-Stress Moisturizer. A synergistic blend of the rose's oil combined with rosewater from the precious blooms is shown to illuminate the skin while reducing the appearance of fatigue, as well as environmental and emotional stress in the complexion. Regular use results in a glowing, more rested, and refreshed look.

Learn more about Testament Beauty's new Damascena Rose De-Stress Moisturizer here.