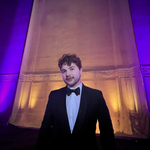 Skin Deep: The Secret to Snatched Jawline, The Skincare for You Skin Type and More from Licensed Esthetician Ian Michael Crumm
Welcome back to Skin Deep a new series where we dive into the latest trends, talk key ingredients, and have conversations with beauty leaders.
If you're passionate about skincare — and do your due diligence in getting intel from bonafide experts in the field, you're probably familiar with the name Ian Michael Crumm. Heck, you're probably already following along with the licensed estheticians 234,000 Instagram followers or are one of the millions who have viewed his Skincare 101 videos on TikTok. I've gotten a chance to know Ian and I'm blown away by his depth of knowledge, fresh point of view on skincare goals (hint: he thinks perfection is "boring"); and his disarming demeanor, which can make even the most socially anxious person at ease in his engaging and warm presence. 
We had a conversation with Ian about everything from his career beginnings to his secret to a snatched jaw. Read on for our complete interview:
Sophia Chabbott: You've had such a fascinating journey from fashion blogger to licensed aesthetician — but let's start at the beginning: what did you want to be when you were a kid growing up in York, PA?
Ian Michael Crumm: A chef! I went into the kitchen and acted like I was on the Food Network and made all sorts of dishes. Thankfully, my family fully supported this passion, so any time I received a present it would be kitchen-related. A Kitchenaid Mixer, a bread machine, rice cooker — I was hooked on creating tasty dishes and thinking of new ingredient combinations. Then, once I got to high school I had thought that I would go pre-med and become a dermatologist or plastic surgeon. Now as an esthetician, I get to blend the creativity of spa experience with the knowledge of ingredients and skin for clients and it feels like the perfect balance of my interests. I believe my childhood self would be very excited and pleased at where my journey thus far has taken me. 
S.C.: What drew you into skincare? 
I.M.C:  My mother and grandmother are bonafide babes. I always admired how they took care of themselves and their self-respect definitely influenced me from an early age. I grew a fondness for fashion and beauty for the desire to look well put together and my interest in skincare grew as I explored treatments in my teen years to manage acne. 
S.C.: Tell us a bit about your practice, from celebrity facials to your content creation on Instagram and Tiktok.
I.M.C: My days are pretty diverse currently and I love it! Some are spent treating clients with facials and others are spent creating content or working on other projects. I love events, too, so I try to have a couple events each year that tie back to my work in skincare/beauty. I'm very much looking forward to 2023 and announcing some new initiatives that go beyond the facials and content creation!
S.C.: There's a lot of information about skin care out there — and not all of it good. What's your step one for people who are looking to get the right skincare for themselves? 
I.M.C: It starts with skin type and self awareness. I just did a series of videos on my TikTok to go back to Skincare 101 — the basics. Once someone understands their skin type and how to best work with the skin, exploration into products is much easier. The internet is great and there are a plethora of resources to help guide people on their skincare journeys, but it's very easy to get hyper focused on trends and newness in beauty often resulting in confusion and a departure from skincare basics that are so important. 
S.C. What are some of the most commonly asked questions you get from your clients and followers?
I.M.C: I feel like a broken record but the most common questions refer to skincare foundations like skin type and the difference in products, i.e., what a gel cleanser is best for compared to a foaming cleanser, or cream cleanser. Since I started content creation in personal style blogging and transitioned to beauty I feel like I speak to people that also don't know that much about skincare, in addition to those skin enthusiasts. For that reason I like to create content that both lays a nice skin knowledge foundation and builds on more in-depth topics. 
S.C.: Can you share your perspective on the "anti-aging" messaging that's out there and so prevalent? 
I.M.C:  It's tired. Why make someone feel insignificant because they have a wrinkle or sun spot. That messaging is beyond exhausting and I don't support it. I love having smooth skin, but there is a more impactful beauty from someone's confidence and skin health that transcends any perfectly exfoliated, brightened and frozen face. I think the industry is working towards a more inclusive mindset and I'm hopeful for the day where people don't batter themselves up if they don't have a "perfect" appearance. "Perfection" is boring. 
S.C.: Skin issues from acne to allergies are so much a part of someone's personal journey of self confidence. What advice do you have for people on those journeys?
I.M.C: Patience and stillness are more impactful than you might think. Stress triggers many unfavorable reactions within the body. While being calm won't cure acne or allergic reactions, accepting and embracing the current moment helps ensure skin doesn't become more acneic or inflamed. 
S.C.: What are some skincare basics that everyone should be doing?
I.M.C: Wash your face twice a day, moisturize and never forget to wear sunscreen! 
S.C.: What are some essential products that people should have at the ready? 
I.M.C: A gentle face wash, some sort of exfoliant whether chemical or physical, vitamin c serum or other antioxidant serum for daytime protection, a moisturizer optimized for your skin type IE lightweight for oily skin or thick and creamy for dry skin, multiple SPFs for different occasions — i.e. something easy for everyday, something to reapply with on the go, and something to wear if you're going to the beach or doing a physical activity which often requires a heavier product. 
S.C.: Ok, give it. What's the secret to getting a snatched jawline?
I.M.C: Lymphatic massage is super important. It's very easy for the lymph nodes to get congested and excess fluid to build up in the midface and under the chin. Gentle self massage under the chin pressing outward along the jawline can help that area. Look for an esthetician that incorporates a lengthy massage into their facials and ask for dedicated time spent around the neck/jawline. A few treatments can work wonders for that area and also feels AMAZING. There are also more involved treatments like Sofwave and Ultherapy that help tighten the skin which can contribute to snatching the jawline, but that is a whole conversation in and of itself for another day. And to be transparent I also have a small amount of filler in my chin which has contributed to "snatching" the line and overall making my jawline more defined. 
S.C.: Since it's party season, can you offer any tips for pre-party skin prep?
I.M.C: The day before, use your favorite exfoliant at night and then focus on hydration with a beautiful moisturizer and/or sleeping mask. Skip any major active ingredients like a retinoid so skin has time to calm down. Get as much sleep as possible and then the day of before applying makeup (if you're going to wear makeup) wash your face, apply a hyaluronic acid serum to plump up the skin, moisturizer again and do facial massage focusing on the jawline and cheeks also massaging upward and outward from the center of the face. Then take a chilled spoon (or cryo wand) and apply it under the eyes. This will help with fluid buildup and also feels so good! This routine should have skin hydrated, healthy and ready for glam. 
S.C.: And after that party…how can we take down bloating after a few too many celebratory drinks?
I.M.C:  Oh yes the dreaded post party puffy face. Massage again will help and so will the frozen spoon. Do a double cleanse oil based cleanser then water based cleanser. Apply a calming serum and/or moisturizer and then work on gently massaging the face. Apply the spoon under the eyes as well and don't skip sleep. Drink a lot of water to beat the hangover in general and you will be back to 100% super soon. 
S.C.: You're passionate about antioxidant-packed products. What do you love about them?
I.M.C: Antioxidant products are primarily marketed as brightening or calming to the skin. One of the most interesting things about antioxidants for skin health is their contribution to sun safety. Applied before sunscreen, antioxidant products are an added layer of UV protection because the trace free radicals that get through sunscreen protection enter the skin and instead of spinning around damaging collagen the antioxidants bond with the free radicals from the sun and neutralize them to stop skin damage in its tracks. 
S.C.: Your much-anticipated annual holiday gift guide is coming out soon! Any hints at what we will be seeing this year?
I.M.C: This year I'm sharing personal favorites that have stuck with me throughout the year. Being in the content space I do receive many gifted products so whenever I run through a product and then repeatedly repurchase it that's when I know it's phenomenal. I'm excited to share what some of those products are for me this year! 
Liked this interview? Read more from our Skin Deep Series: