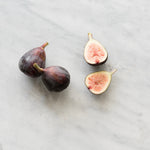 I was tired of my skincare routine making me feel bad about myself.
With over 15 years experience as a fashion and beauty editor, I have tried just about every product I could get my hands on. Each jar, tube, pump and dropper with dozens of unpronounceable, unrecognizable ingredients promised they'd do everything from lighten my dark spots, finally clear up my adult acne and of course, make me look younger. The more I learned about the science and ingredients, the more products I tried, the worse I felt. It was as if all of these products were pointing out everything that was wrong with me.
I wanted products that I enjoyed using, that gave me that glow we're all searching for and frankly, ones that weren't trying to fundamentally change me.
I got to thinking about my great grandmother Frieda, who I was lucky enough to know as a kid. She brought her Mediterranean family traditions to Brooklyn, NY when she immigrated. Every visit to her home would start with picking roses, grape leaves and more from her garden out back and then we'd go back to the kitchen to make some delicious meals and every once in a while, some recipes — like homemade rose water, could also be used as skincare (hello, DIY toner! We'll show you how to make some yourself soon on our blog!).
Grandma Frieda's example inspired me to go back to my roots and create Testament Beauty, a clean, uncomplicated skincare brand dedicated to bringing garden-grown ingredients to the forefront.
Testament sustainably-sources garden-grown ingredients like  grapes, melons, herbs, and more to create formulas that are loaded with cell-regenerating antioxidants, hydrating oils, plant-derived actives that freshen and brighten — and gets skin glowing with your very first use.
As to the name Testament, everyone I speak with has a different interpretation of what it means — and I happen to love that. To me, this brand is a Testament to my Grandma Frieda, who always kept it real. It's a testament to simple-yet-powerful garden-grown ingredients in our formulas that nourish your skin. It's a testament to you, my extended family of skincare lovers, who have been searching for clean skincare that actually works, but also keeps it down to earth.
I hope you love Testament as much as I loved creating it. Please comment here and/or DM us on Instagram to tell us about your experience! Can't wait to hear from you!
Sophia Chabbott xx