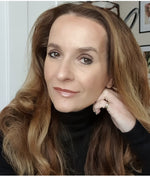 How to Prep Skin For Makeup
When I met Kate Baer at a dinner hosted by Trinny Woodall in New York City this winter, I fell in love. Trinny was in town to present her newest makeup collection (which is fabulous, you can check it out here) and Kate is her go-to makeup artist, who helped me find some ideal colors and also told me a fabulous story about how she reconnected with an old love after three  decades — and that they were to be married. Kate, who is based in the U.K and her Bavarian fiancee wed in January 2022 (the "legal bit," as she describes it), and their English wedding will take place in September. Since wedding season is around the corner, I asked Kate to share her expert advice on getting her skin wedding day ready and tell us a bit about her successful career.
Sophia Chabbott: When did you first decide to become a makeup artist and how did you go about becoming one? 
Kate Baer: I always loved playing around with make-up but my passion initially, was skincare.  I started using skincare from my mid teenage years and I haven't looked back.  I used to love looking in magazines at different looks and growing up in the '80s they were pretty full on! Blue eyeshadow and strong lips — I loved it.  I was always 'that friend' who other friends came to, to do their make-up and hair.
Playing dress up was great fun. Then later on, after studying graphic design at college and venturing into another career, I got a part time job with Chanel. It was then that I decided, this was my path. Makeup and helping women look and feel like a better version of themselves gave me such joy!
S.C.: Who were your beauty icons growing up — and even now?
K.B.: Classic Hollywood chicks, Audrey Hepburn, Elizabeth Taylor I loved the simplicity of beauty back then with the old screen sirens. To this day, I adore Sophia Loren — she's a timeless beauty. Modern day icons: I love Anne Hathaway and Demi Moore. But I have to confess, [I have a] total girl crush on Lady Gaga — I love her face.  She truly is so versatile in her looks and transformations but still maintains natural gorgeousness. 
S.C.: How would you describe your signature look?
K.B.: I style a lot of brides in both hair and make-up, my calling card is: timeless. I create natural looks so they are just an enhancement of themselves. It's a look I love to create, effortless but polished.
Most of my clients come to me for just that. Often they are people who don't usually wear much make-up, if any, so come with trepidation but are attracted by my work and how flawless I make them. For bridal in particular, I feel it's important to create a look that doesn't age so in 50 Years down the line they can look back at photos and still love how they looked.
S.C.: What's it like to work with Trinny Woodall? 
K.B.: Working with Trinny has been a fantastic opportunity.  I have now been with Trinny London for four years. I love the brand as it delivers the look I like to create, too.  I have worked with Trinny herself on numerous occasions. Last year, I traveled with her to Munich, Hamburg, Amsterdam and New York. I met many influencers and editors while we were on the press tours which was such a fantastic opportunity.  
S.C.: You're a newlywed and are about to have your English wedding in September! How are you prepping your skin for the big day?!
K.B.: For me, a double cleanse is always on the cards.  I have always used a make-up remover cream or micellar water, one for eyes and one for base.  I often don't wear much make-up anyway, even as a make-up artist, I have usually kept it down to a tinted moisturizer or the lightest of foundation and always at least an SPF 30.  I already drink two to three liters of water a day which I feel is super important for skin then moisturizing face masks around two to three times a week – I LOVE the Testament Moroccan Chamomile Sleeping Mask, too – I'm a huge fan!
I double cleanse on a night time then follow up with a liquid exfoliant and night cream.  I really want to keep my glow for the wedding so I haven't changed much of my routine except I have brought in the liquid exfoliant in addition to what I already do.
Keeping in mind that I will be 50 when I get married, I want to really look and feel my best.
S.C.: As a makeup artist, what do you think people should focus on in getting their skin wedding-day glowing?  
K.B.: When I do a trial and meet my bride-to-be  for the first time before the wedding, I always try to do this at least two to three months before the big day. I do this because if I feel there needs to be a change in skincare routine, this can be implemented in enough time to see the benefits for the day.
 I 100% recommend a liquid exfoliant at least two to three times a week, if gentle like a PHA, then perhaps on a morning too underneath their moisturizer, important to include SPF if you are doing an exfoliant through the day.  Moisturize day and night and perhaps introduce vitamin c and hyaluronic acid through the day and a little retinal or stronger AHA liquid exfoliant on the night.
Also get as much sleep as possible and hydrate!
 S.C.: What are some mistakes you see people making when it comes to prepping their skin for their weddings?
K.B.: Starting a new skincare routine too close to the big day or having a treatment facial too close to the wedding.  Like I mentioned before, any new routine should be implemented a good few weeks before, not a few days prior to the main event. 
Another HUGE tip, if having facial hair removed, don't do this the day before. Allow a few days just in case the wax burns or you get a skin tag through threading.  I've seen it happen all too often and after almost 20 Years as a bridal stylist, I can honestly say it's happened a lot!
S.C.: Can you map out what your wedding day skin plan looks like?
K.B.: The night before after a double cleanse and hydrating mask, I will apply my AHA exfoliant and probably an oil.  I have various favorite oils but I love collagen and orchid oils. I will also apply an under eye cream and lip balm.  I like to use a lip balm rich in hyaluronic acid, it helps to plump out the lips!
On wedding day morning I will cleanse with a balm cleanser. I love balms and some often have beautiful calming fragrances to them which are ideal to help calm your nerves. Then, I will probably apply a clay mask. I love clay masks too as they are perfect for calming the skin and evens the color so if there is any high color it will calm before make-up application.
When I remove the mask I will do this gently with a muslin cloth so it doesn't feel abrasive and then I'll apply my SPF and moisturize. I'll use a light make-up primer too. I love the Delilah 'UnderWear' one.
S.C.: What do you recommend doing (or not doing to your skin the week leading up to the wedding?
K.B.: Hydrate, hydrate … HYDRATE! Get as much hydration into your skin as possible and a few early nights too.  Don't do anything new, don't change your skincare routine at this point unless it's just something like a moisturizing or exfoliating face mask. This is not a good time to try anything new or you could have a break out or worse, allergic reaction just in time to say 'I Do!'
S.C.: What do you recommend doing (or not doing to your skin on the day of the wedding? 
K.B.: Less is more. As previously mentioned, a natural, timeless look is best.
Make sure, if you are doing your own make-up that you have practiced.  If you have hired a professional makeup artist like myself, then ensure you've had a trial but also, do your research on your artist and trust them. 
You may have to approach your wedding day make-up a little different to your party make-up so be prepared to tweak a little.  It's about getting the balance right and your foundation/tinted moisturizer matched perfectly.  For me, I feel the blend has to stop on the jaw line as the last thing you want to see in photos is too much.
If you want a fake tan for the big day, also ensure you have trialed this too!
S.C.: What is your overall vision for a bride on her wedding day in terms of makeup?  
K.B.: Glow, not glitter or shine. Getting the right balance between contour and highlight.  For me, it's always about the eyes.  The eyes tell the story so don't be scared to go a little smoky but in a romantic way not gothic (unless of course your theme is Goth then go crazy!).
Lashes are great but if you are blessed with good natural lashes, just enhance these. There are many great mascara primers out there so curl them first, prime then apply a couple of layers of mascara.  I love to see the lower lashes defined too. It really does open up the eyes! However, if not blessed with good lashes and you feel you need a false lash there are loads out there, again my tip, trial them first so that you know you have the right 'flutter!'
Don't be scared to go a little bold with your lipstick either. I opt for lipstick and gloss, not just gloss alone.  It's longer lasting so you don't have to worry about topping up too often and it gives a stronger color. Your photos will wash out your face slightly so best to go a little bolder with color than play it too safe.  I don't mean every bride to rock a red lipstick but I do often suggest a stronger pink or coral through the day, then you always have the option to go stronger for the evening.  I love to do that as it changes the look up for your evening party.
S.C.:  What are your tips for getting the best photos? 
K.B.: I like light reflection. Find the balance. Not too matte but not too metallic either. I do love to see a little shimmer on the eye and depth along the lash line. I always do a little high light on the inner corners of the eye and just under the brow bone, like I said earlier, it's about the eyes for me and this tip makes them bigger and brighter.  Remember to wear a blush, too. I would opt for a cream blush to keep the glow. Photos will lighten you up somewhat so you want to show the dimension to your face and your bridal radiance so don't be scared to apply a little blush, that English rose look is just beautiful – you'll thank me for it!
S.C.: Tell us about your wedding day makeup look!
K.B.: Our first wedding was in Bavaria, my husband and I met on holiday 32 Years ago in the UK.  We found each other again in lockdown 2020 and we were NOT letting one another go this time.  So after his proposal in August 2021, we chose to do the 'legal bit' in his home Country in December 2021 where I just wore a cream Zara trouser suit and kept my make-up natural but smoky.
I'm lucky to have another wedding in September 2022 so this is the BIG one. It's where I get the chance to wear the gown and all the trimmings. 
My theme is ivory, blush pink and champagne with a little rose gold. The bridesmaids will be in champagne sequins.
My gown is very Hollywood, simple lines but classic and the shoes are incredible Terry de Havilland heels – inspired by SJP in the recent SATC. So, I'm thinking my colors will be a mix of champagne and blush pink with rose gold shimmer on the eyes. Blush nails and a blush lip. I'm hoping to have a little more tan by then as I do a lot of outdoor running so hopefully I can just go with a good tinted moisturizer base. No powder though as I'm not a fan and I feel being a mature bride, it's more complimentary without.
S.C.: What are you most looking forward to about the big day?
K.B.: I'm so excited! I can't wait to wear the outfit I have planned but most of all I just can't wait to celebrate with all of my close friends and family.  My husband has a family coming from Bavaria who attended our legal ceremony there so it will be wonderful for them to experience England and all the surprises we have planned for the day. 
We have a wonderful celebrant service being conducted by a good friend and all of my suppliers are people I have worked with over the Years. People I trust to do a great job so the planning has been a breeze!
I'm super excited for my gorgeous husband to finally get to meet everyone I hold dear, it will be a room full of the most wonderful people and a day filled with love and laughs.
Like this post? Check out more like it on our blog!